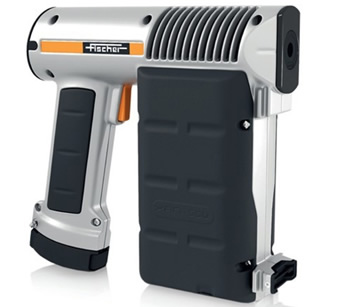 Mobile X-RAY Fluorescence Measuring Instrument for
Fast and Non-Destructive Material Analysis and
Coating Thickness Measurement
The FISCHERSCOPE X-RAY XAN 500 is a mobile and universally applicable energy dispersive x-ray fluorescence measuring instrument. It is well suited for the non-destructive coating thickness measurement and material analysis. The instrument is perfectly
suitable for measurements in quality assurance, incoming inspection and process control. Thanks to its small size, you can measure even on difficult geometries.
Typical fields of application:
Measurements on large coated parts, like Machine components and housings
Mobile measurements in electroplating shops
Mobile measurements of precious metals
Determination of the metal content of electroplating baths (Solution analysis)
Outstanding accuracy and long-term stability are characteristics of all FISCHERSCOPE  X-RAY systems. The necessity of recalibration is considerably reduced, saving time
and effort.
The modern silicon drift detector achieves high accuracy and good detection sensitivity.
The fundamental parameter method by FISCHER allows for the analysis of solid and liquid specimens as well as coating systems without calibration.