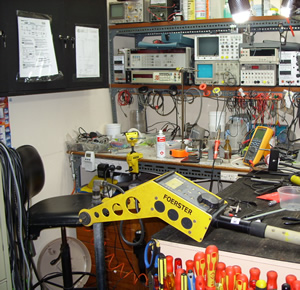 Our History of Service.
KK&S Instruments was formed in 1977 taking over NDT products handled by the Company Watson Victor by two of its employees, the Sales Manager and a qualified Instrument Maker.
The International manufacturers of the instruments that were to be represented by KK&S,  were vitally concerned that this new venture was capable of providing expert service to their instruments should the need arise, both in repairs & calibration. It was this expertise that the instrument Maker, Mr. Bob Siddons the instrument maker, brought to the new venture.
Alongside the sales effort there developed a modern process controlled Service Department, equipped with all of the latest equipment to guarantee timely expert service & instrument calibration.
Service is still the engine room at KK&S, to the point that our sales staff are all qualified Technicians and Engineers, giving them an intimate understanding of the products that they sell and an appreciation for customers requirements. These intimacies also allow them to flush out any equipment issues, whether operational or hardware and provide timely solutions.
Customers of KK&S Instruments can be assured that every attention will be given to their service requirements. We well recognize the importance to you of keeping you working and we will always consider your instrument service as paramount in our relationship.
After 37 years of service to you, we are looking forward to the next 37 years.